Purpose
The differential element clamps the core and transfers the torque from the shaft to the core during the winding phase. The torque can both be generated by ledges in the shaft body or by side loading.
Positioning
Position the differential element respecting the winding direction (see Figure 1).
In case of side loading use a disk between the elements.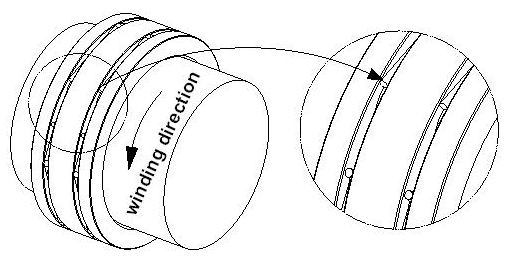 Product loading and unloading
Slide the core onto the elements and turn slightly in winding direction.
Position the core and clamp it by turning against the winding direction.
After the product is finished, unlock the core by turning in winding direction and move the roll off the shaft.
Cleaning
Dust can be removed by a vacuum cleaner
Remove the clamping yoke for intensive cleaning. Before removing the clamping yoke, the element has to be taken out of the shaft. Do not take the clamping yoke off in radial direction (see Figure 2). Do not deform the clamping yoke!
Water and a little tenside can be used for intensive cleaning of the element body only – not for the clamping yoke. Do not use dissolvers!
Safety instructions
Assembling, operation and maintenance may only be performed by well-trained personnel.
There is a risk of injury by rotating differential elements.
Keep sufficient distance from and do not touch the shafts with differential elements while they are rotating.
Differential elements are no machines in the legal sense of the "Machinery Directive 2006/42/EC". They are elements for integration into a machine. The machine may not be put into service before the whole machine conforms to the "Machinery Directive 2006/42/EC".
Attention: To avoid overheating the elements, the rotational speed difference between elements and the shaft must never exceed 30 rpm!